I have been invited by Inge from
Windward Made
to participate in a Creative Blog Hop. All bloggers who join the fun answer the same questions about their work and process and then invite more creatives to join. Now it's my turn! So here are my answers:
1. What am I working on?
Nowadays I am working on many things all at once. I am in the process of launching my collection of weekly planners for 2015. Some of them are already available in the shop and others are still being photographed. I am also developing a new collection of notebooks, where I'll be using some basic screen printing. This is the first time I am doing screen printing, so it is very exciting for me to learn this new technique. On the other hand I still have lots of testing ahead of me. I won't tell you yet what the collection will look like, except for that the notebooks will have less pages and more colors compared to the ones I've been making until now. At least that's the plan, I might still change things around.
I am also working on a new website for Paper Plane Stationery. I am hoping to have everything under one roof: my shop, this blog as well as all the info and contact information. This project has also just started, to there is still a lot of work ahead. I can't yet estimate when the website will be up, but I can't wait already! I am doing it all myself, so I am expecting a lot of trial and error on the way.
2. How does my work differ from others of its genre?
I wouldn't say I am making something completely new, but there are a couple of ways I think my creations stand out at least from the majority. My designs are very simple. I believe in the power of simplicity, I always take away from designs (also from songs, writings, everything I create) instead of adding when editing and perfecting them. It is also very important for me to be as friendly to the environment as possible with everything I do, so I make sure to use eco-friendly materials and processes and recycle whenever possible. Another difference of my products from at least a lot of large scale production items is the personalization. I make everything myself, so a lot of my creations are made specifically for a customer. I find this connection very important in doing what I do. Even when my customers purchase my standard designs without any special requests, I like to approach each of them personally: write them a note, wrap the notebook nicely or add a little surprise I think they will like.
3. Why do I write/create what I do?
I love to make. There is nothing like the feeling of taking a bunch of supplies that don't look like anything and creating a final product that can be used and looks beautiful. I made lots of notebooks, I've crocheted loads of baskets and knitted several scarves and I still have this rush of joy every single time I hold a finished product in my hands. I seriously run to my husband each time I've bound a new book to show him and every time he tells me its beautiful.
Another reason for making what I make is that I love physical objects. I am the kind of person who still listens to music on vinyl and tapes, takes photographs on film, writes on paper and schedules things in a little planner book. I don't hate digital tools, there are a lot of amazing things we had no idea were possible just a few years ago. And I am not a fan of mass production of cheap low quality physical products. But there is something about beautiful high quality products made with love and care that makes them so special. I am especially addicted to paper products. When I put my thoughts on paper it somehow makes them more real. So I try to have everything on paper. I keep several notebooks for notes, sketches and to-do lists, a weekly planner, a blog planner as well as occasional print outs and worksheets for other activities. Having worked at a printing house I realized I love working with paper products as much as I love using them. This helps me understand my customers so much better. I use my notebooks myself and I am always paying attention to how I use them and what I expect from them when developing new products.
4. How does my writing/illustration/creative process work?
The ideas come to me in many different ways. Sometimes I get them when I am taking a shower or when I am lying in bed and can't fall asleep. Some ideas come when I am trying out a new medium or browsing what other creatives do (usually the ones from completely different genres). I try to write down or sketch all the ideas I get and when I have time I test them. Sometimes I do some more sketching to develop them further, but most of the time I get straight to carving the stamps or folding paper. Sometimes the idea works out, other times it doesn't and I try to experiment with it more or just drop it if it doesn't feel right. When I like the idea I make a prototype and afterwards go ahead and start planning a line of products.
What I definitely know about myself is that I almost never get good ideas when I know I need to come up with one. They usually just pop up randomly. So I am trying to develop my creative process so that I involve myself more in the activities during which I get ideas. For example, sketching something every day. I don't do it regularly yet, but that is the goal. The purpose of those sketches is not coming up with new ideas, but just practicing. Hopefully then my brain will be in creative mode more often and will generate more of those random ideas.
And now to the lovely ladies I'd like to invite to join this creative blog hop: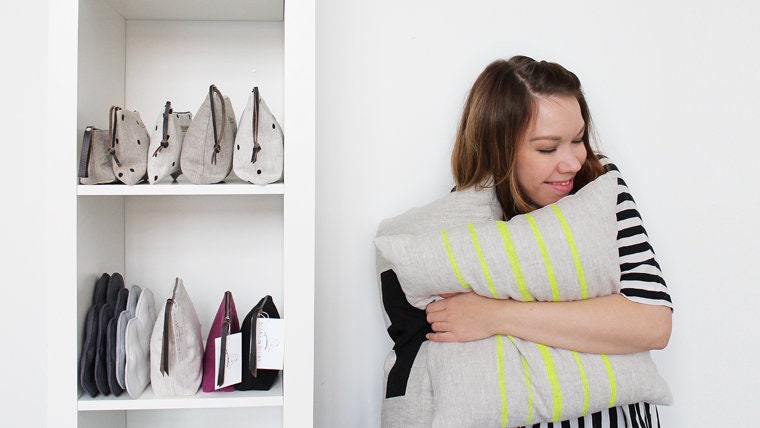 Kaisa is the owner of two beautiful shops:
Beanie on Helina
with home textiles made of natural fabrics and
Beanie on Helina Ink
with illustrations and stationery. She is a Finland-based designer too and even though we met only once (since we live in different parts of the country) I am really happy to have connected with her. She is super talented and hard working and one of my favorite textile designers ever. I am a proud owner of one of her "classic"
house cushions
and it is a very lovely addition to my living room! Check out Kaisa's blog for behind the scenes of her amazing studio, peeks into her life and pictures of her cute dog.
Bonnie is an amazing surface pattern designer, a blogger and a founder of the
Roost Tribe
creative community. I have been a regular reader of her blog
Going Home to Roost
for several years and she has given me so much inspiration during that time. I have been especially excited for Bonnie when she got to teach her own Creative Live course called
Design Surface Patterns from Scratch
and I loved hearing her creative story and watching her share her skills. She is an amazing teacher! I can't wait to purchase the course, go through it again and learn to work with patterns like a pro :) You can see bits of Bonnie's new fabric collection in the picture above and more of her work on
her blog
.
Make sure to check these ladies sharing their creative processes in the next two weeks. And thanks for letting me share mine!